How do you store your yarn and notions? Check out some of my tips and ideas for crafty yarn storage!
I love organizing things, especially when many containers are involved, and yarn storage is always at the front of my mind. So of course I thought I'd share my thoughts and my current strategies with you! First: the small things.
Notions
I LOVE small bags and pouches, so I have a number of them for my yarn notions. The cute white and yellow Gudetama bag pictured above (which was the makeup bag sent by Ipsy one month) holds my travel notions. This includes a small tape measure, collapsible scissors, a little case of yarn needles, and a box of stitch markers. I also keep a miniature pen for notes and a spare phone charger in there! That last one is a game changer.
All of my hooks live in their own case, also pictured above. For hooks, I like to use a pencil case. You can find all kinds of adorable pencil cases on Etsy or in stationary stores. You can even crochet your own! In fact, I'm working on a zippered pouch pattern right now, so watch this space. 😉 The case pictured above is really special to me; it's Totoro-themed and I bought in on a trip to Nagoya, Japan. Little useful items like that are such good travel souvenirs, don't you think? Alright, let's move on!
Yarn
Most of my yarn lives in a big plastic chest of drawers in the closet (Like this!), but I like to keep my current WIPs front and center in my living room. For those, I use clear bins, like the ones pictured above. They stack nicely, fit on my bookshelves, and are perfectly transparent so it's easy to see what's inside them. For ongoing projects, I usually keep one piece and all its yarn in one bin. Sometimes I have yarn set aside for something but too many projects going to actually start it. For those scenarios, I bag and label the yarn, like in the left bin in the above photo. In that bin, I have a few skeins of KnitPicks Galileo that I set aside to make the wurm hat. I leave the yarn labels in the bag too, even if I've wound the yarn into balls. Having spent hours online before trying to figure out what brand an unlabeled ball is has made me leery of tossing the labels.
I like to bag and label my yarn in my closet drawers as well. It helps me to remember what I was planning to make! I read once that yarn (especially natural fibers) needs a little air to stay in its best condition, so I usually leave the bags a little bit open. I'm not sure how true that is, but it's worked for me so far. 😀 When I've mostly used up a skein of yarn, or when I have bits of multiple colors of one type laying around, I take a different approach: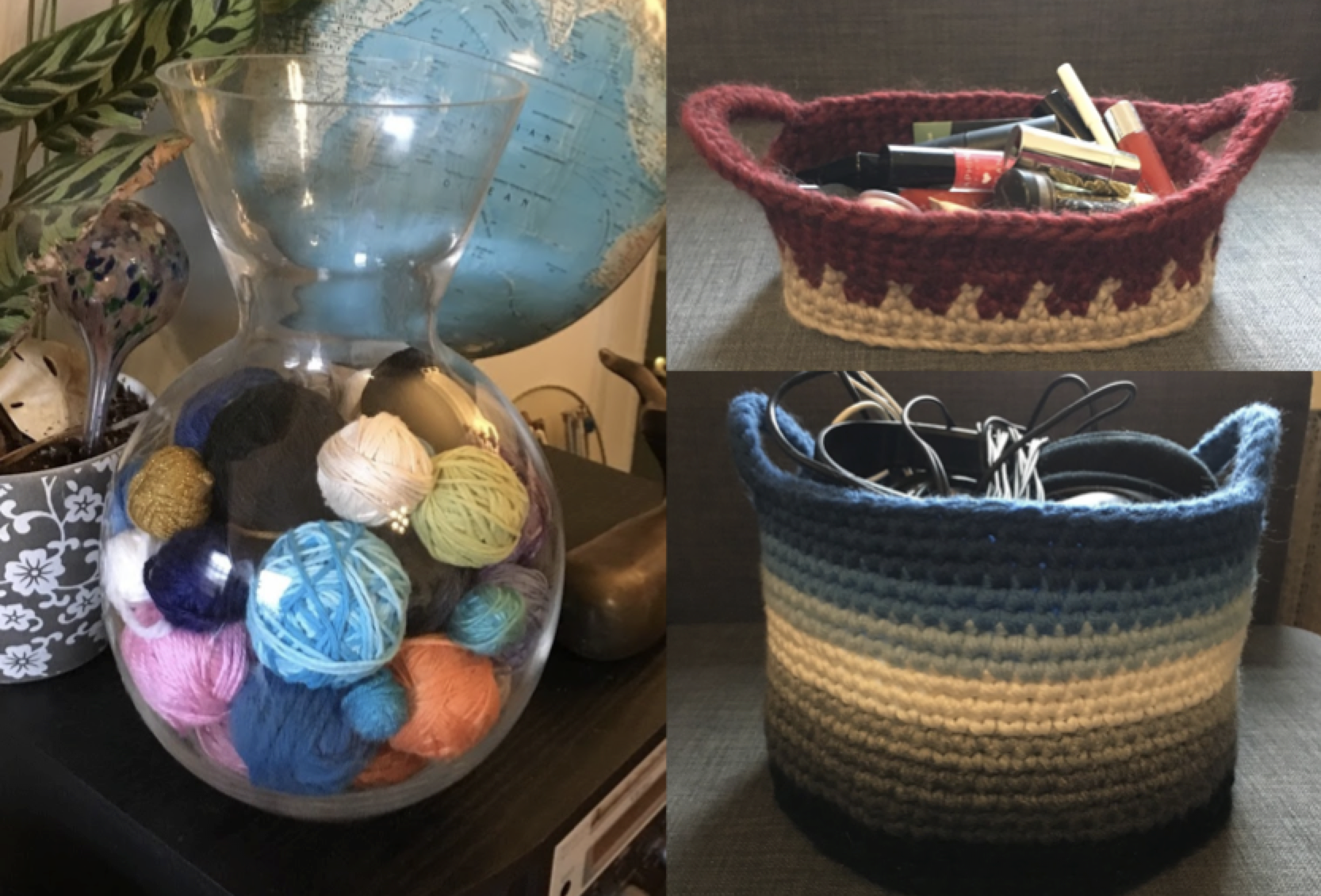 Scraps
Scraps are dealt with in one of three ways:
With only a few inches or yards of yarn, I often save those up in a bag and then use them to stuff amigurumi. It saves me a little bit of Polyfil and makes good use of those bits.
If there's a little ball left, about 1-2″ in diameter, then I add them to my yarn vase, pictured above. I love this piece of decor! It's so colorful, goofy, and a charming echo of my favorite hobby.
With larger amounts of yarn, especially when I have a few colors of the same brand, I often create more storage! I have several little baskets I've crocheted around my house, including the two pictured above! Those specific ones hold cables and makeup, but I also have a tall one for my straight knitting needles, and a square one for nail polishes.
How do you store your yarn? Do you have yarn storage dreams, like the beautiful diagonal shelves or square hanging baskets you see everywhere on Pinterest? My dream is to have a couple more transparent 5-drawer shelving units (full of beautiful yarns, of course!) out in the open in my very own craft room!
Full disclosure: The product links in this post are NOT affiliate links, I'm just sharing some products I like.