This weekend I went to the Fall Fiber Festival and Sheepdog Trial at Montpelier!
Every year in October, the Fall Fiber Festival and Sheepdog Trial is held at James Madison's estate, Montpelier, to promote the local fiber industry and showcase the products, techniques, and history involved in animal fiber production. My parents took me to this event a few times as a child. I remember getting to pet all kinds of fluffy animals and explore lots of fun crafting demos. This year, not only did I pet all kinds of fluffy animals and peek in on some spinning demos, I also splurged on some awesome yarn. But more on that later. 😉
Sheepdog Trials
One of the main events is the sheepdog trial that goes on in a big field next to all of the vendors. New sheep who have never interacted with sheepdogs are used each round to give each dog a fair shot at herding them. That's a lot of sheep! The dogs and handlers get points for completing various tasks, such as guiding the sheep through fences, around obstacles, and into a pen. For all of this, the handlers mainly use whistles to instruct the dogs. It was amazing to watch the dogs turning on a dime at the shrill sounds! They're incredible at their jobs, and a real joy to watch.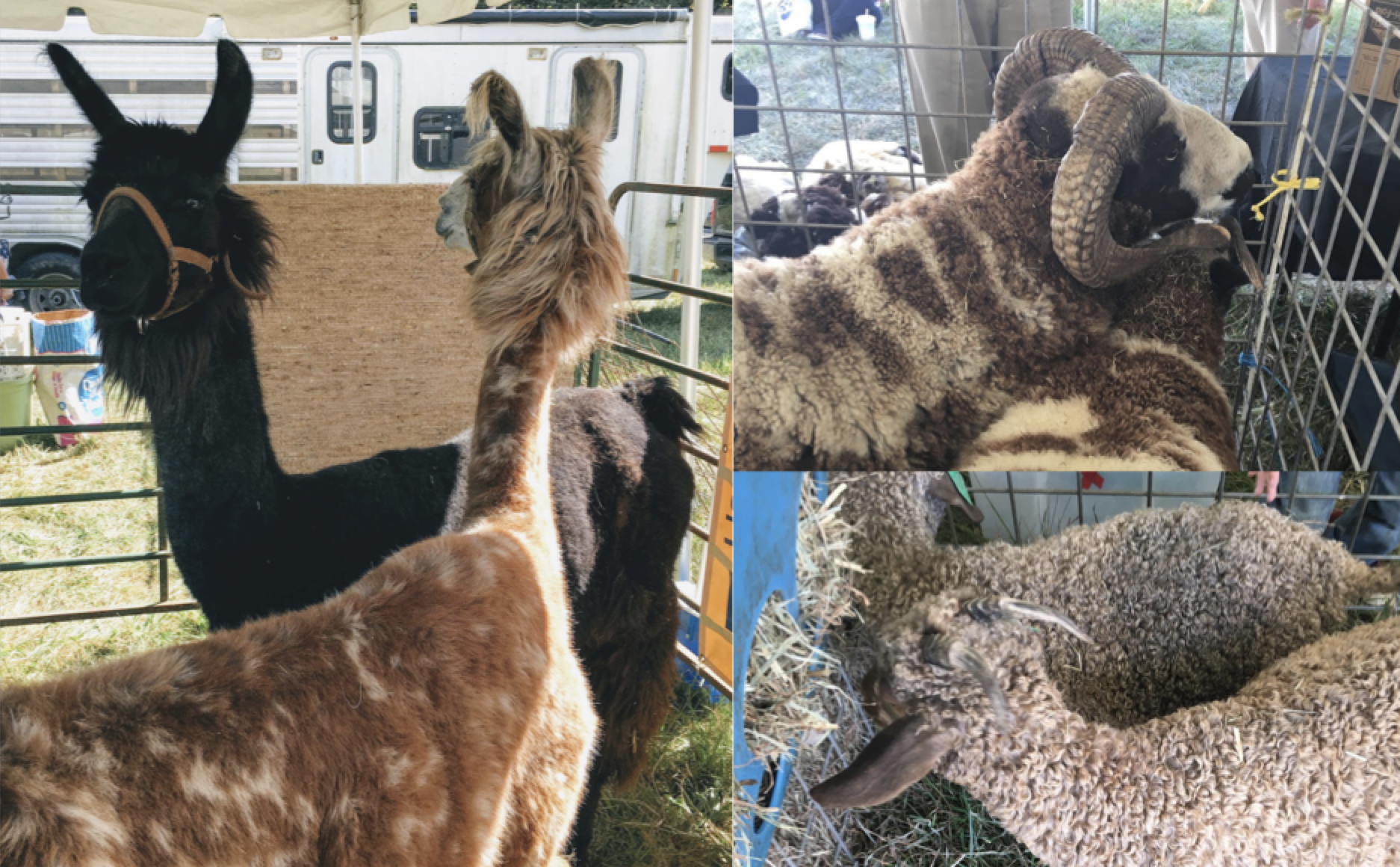 Fiber Animals
Another of the main attractions is the big tent where you can meet and pet fiber animals. There were, first and foremost, all kinds of beautiful sheep and goats. There were also llamas and even velvety soft angora rabbits! My favorites were the little, curly-haired Angora goat kids. They were so soft and sweet, I could pet them all day. Also impressive was the big ram pictured above. His fleece was such a cool combination of cream and brown, and he had a very haughty and bored expression that made me laugh. I was so thrilled to meet these beautiful friends who provide us with such amazing fibers to create with!
Yarn
Onto the good stuff. I'll admit, I got so distracted looking at and feeling all of the amazing yarn that I mostly failed to take photographs of it. Oops, now I'll definitely have to go back next year. There was so much gorgeous yarn in every direction that I couldn't decide where to look first! Buttery cashmere, haloed alpaca, satiny merino-silk blends, all in a vibrant rainbow of shades. Oh man, I'm swooning again at the thought. As someone who's made mostly amigurumi in the past, it was hard to decide what to buy. I often use acrylic for toys, but for these heavenly natural fibers I wanted to make something wearable.
After digging through my Ravelry favorites, I picked out two merino/silk combos: one lace and one fingering. The green yarn below is the lace, from Unplanned Peacock Studio. I've been drooling over leaf-patterned shawls and wraps, so I'll use this yarn to make one. It's so incredibly soft, with a delicate ombre color change throughout. For my second splurge, I decided to go nuts. This fingering/sock yarn is from Wild Hare studios. Oh my goodness, it has everything. It's rainbow AND sparkly. The little kid in me could NOT resist this combination, although I'm not sure yet what exactly to make with it. If you have any ideas, please let me know in the comments!
This was a really fun experience, and I would definitely like to go again next year. It's so fascinating to have a reminder of where animal fiber yarns come from and see how they're made from start to finish. Have you gone to a wool or fiber festival? I would love to hear about your experience!