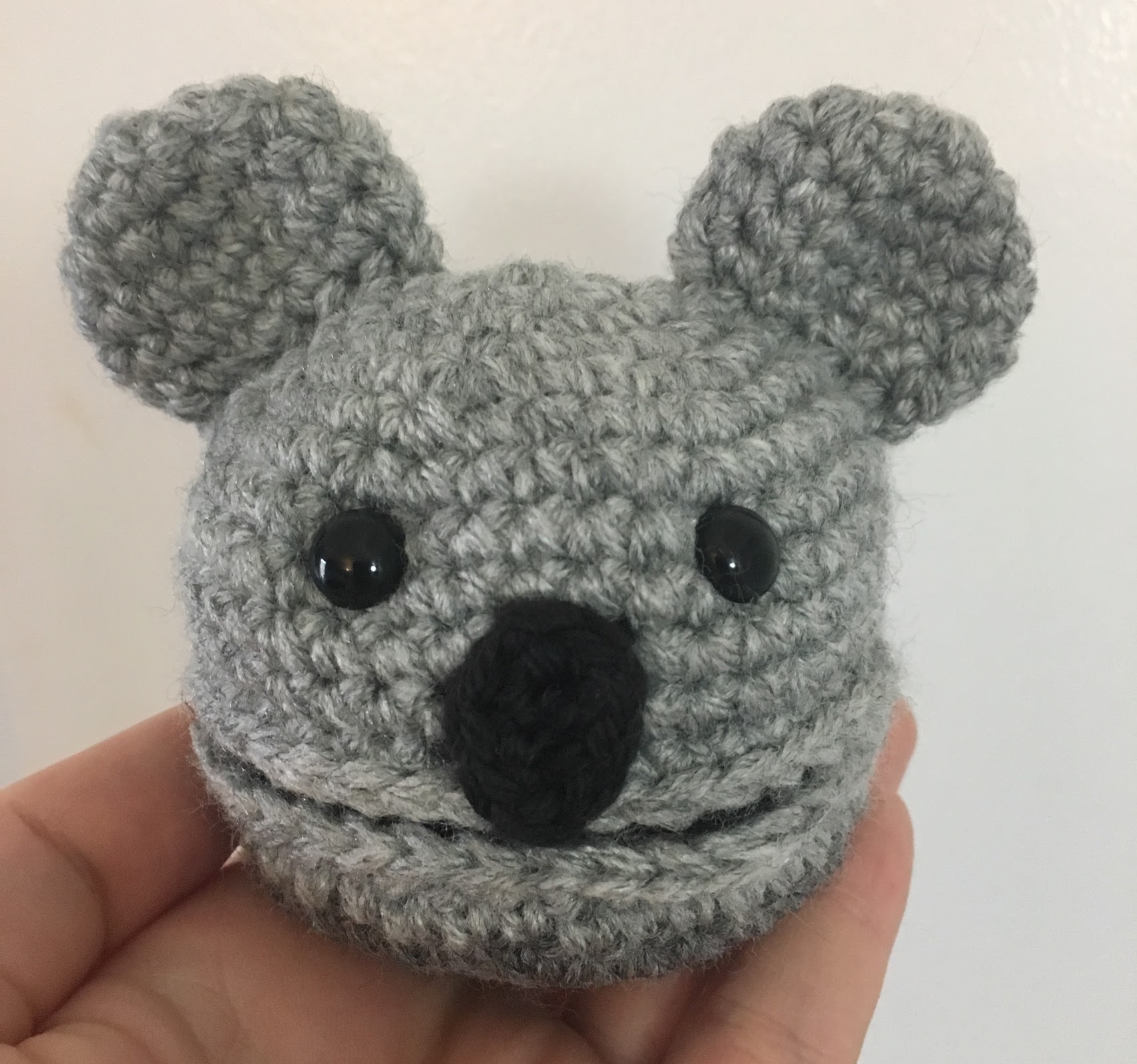 Using the construction method from the froggy pouch pattern and some different embellishments, you can make this adorable koala zippered pouch!
This pattern is an add-on to the froggy pouch pattern, which contains the instructions for the main round pouch and adding the zipper. To turn the pouch into a different critter, all you need are a couple of different facial features! For the koala, we have big, round ears and an oval-shaped black nose.
Materials
gray worsted weight yarn, about 15-20 grams (~30-35 yards)
a small amount of black worsted weight yarn, only a couple of yards
3.75 mm hook (US F)
7 inch zipper
thread or embroidery floss (color is not too important)
9mm safety eyes (optional, you can sew them instead if you want!)
yarn needle for sewing in ends and attaching pieces
Using your gray yarn, zipper, and thread, make the circular pouch according to the instructions here. Next, make the embellishments as follows:
Ears (make 2)
R1: sc 6 in a magic ring (6)
R2: 2 sc in each st (12)
R3: (2 sc in next st, sc 1) 6x (18)
R4-6: sc in each st around (18)
R7: (invdec, sc 1) 6x (12)
Fasten off, leaving a tail to sew the ears to the head. Attach ears to either side of head.
Nose
Ch. 4. Starting in 2nd ch from hook, 2 sc in first st, 1 sc in next st, 3 sc in next st (working around to the other side of the chain), 1 sc in next st, 1 sc in next st (this will be the opposite side of the first chain you worked) (10 sts).
Fasten off, leaving a yarn tail to sew nose to face. Attach nose in center of the front of the pouch vertically so that the bottom of the nose is just overlapping the zipper seam.
Attach safety eyes, if using, on either side of the nose one row higher, with about 6 stitches in between the eyes. Pull any yarn ends to the inside of the pouch and weave them in. Voila! Now you have your very own koala pouch that can gobble up and store coins, earbuds, or any other little items you want!