I'm signing off on my 2017 goal to learn to knit, and I have some projects to recommend if you're learning to knit as well!
Pictured above is my Flax sweater, which I cast on in May of last year when I decided to learn to knit. Rather than a simple scarf or hat, I decided I would bite off more than I could chew and make a full, human-sized sweater. It certainly didn't end up being the first knitting project I finished. 🙂 Since making a sweater takes so long, I started and completed some small practice projects along the way. All of these small projects taught me important knitting skills, and I would love to recommend them to you as well!
Quick projects for learning to knit:
Practicing the knit stitch and working in the round
You can't beat row after row of stockinette for getting your tension even and getting comfortable with the knit stitch. For my Sky Cowl, pictured above, I didn't use a pattern, I just cast on a bunch of stitches on 24″ circular needles until I could comfortably knit in the round and then I began to do so. I didn't count, but if you're just starting out, I would recommend starting with an easy-to-remember number of stitches, marking your rounds, and counting at the end of each one until you're confident that you're not dropping or adding stitches. I used a single skein of Caron Cakes yarn for this one. That kept me interested, since I wanted to get to each color change. Interesting yarn is a great way to spice up an otherwise boring project when learning to knit. It was also just the right length for me to use up a full skein of yarn and wind up with a perfectly-sized cowl. I definitely recommend this as a "learn to knit" project!
Ribbing and stranded colorwork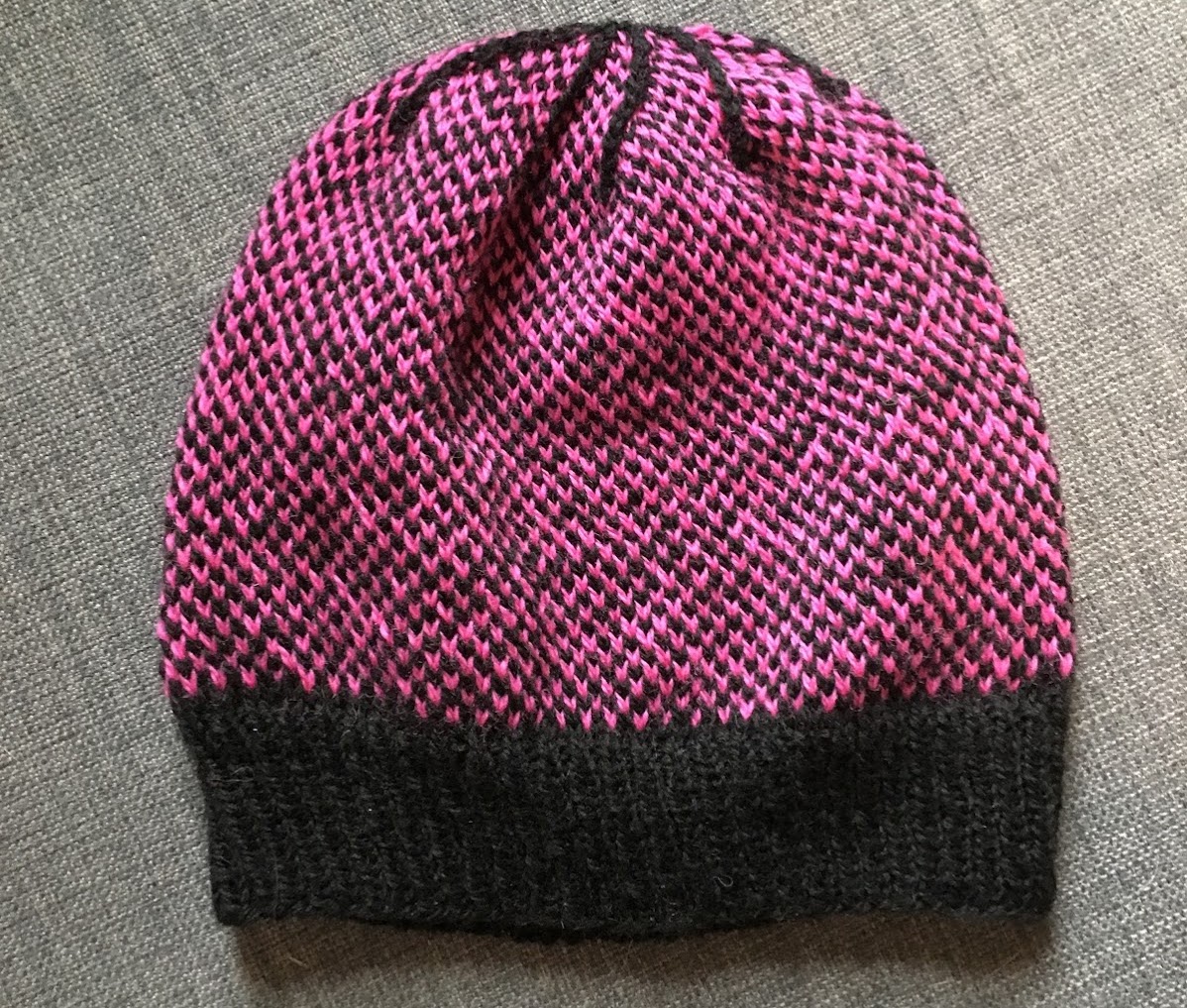 This punk hat is a great introduction to stranded colorwork. Because the color changes every other stitch, you don't have to worry about long floats. Using two very different colors also has a really dramatic effect when you switch with each stitch. The brim will let you get comfortable with ribbing, and the crown is great decreasing practice. This a great way to learn a couple of slightly more challenging techniques once you've mastered basic stitches. It's also a relatively small project, so it doesn't take to long to complete. You can find the free pattern here on the blog!
Kitchener stitch, purling, straight needles, and seaming
I'm a huge fan of hats, since they're so fast to complete! They also don't take too much yarn, so chances are you have just enough laying around. These 2 different cat hats were really fun to make, and have slightly different techniques. The one on the right, the Lil Kitty Beanie by Prem Knits is worked in the round. The top is closed with the kitchener stitch, a tricky technique in an otherwise simple pattern. You may recognize the hat on the left as the women's march cat hat. This one is worked flat on straight needles, and then the sides are seamed together. It's perfect practice for sewing seams in your knitting, and straight needles are really easy to use when you're just getting started.
If you're learning to knit, definitely give these quick projects a try. If you're like me, once you've mastered these basics, you'll want to jump right into socks and sweaters! More on that soon… 🙂