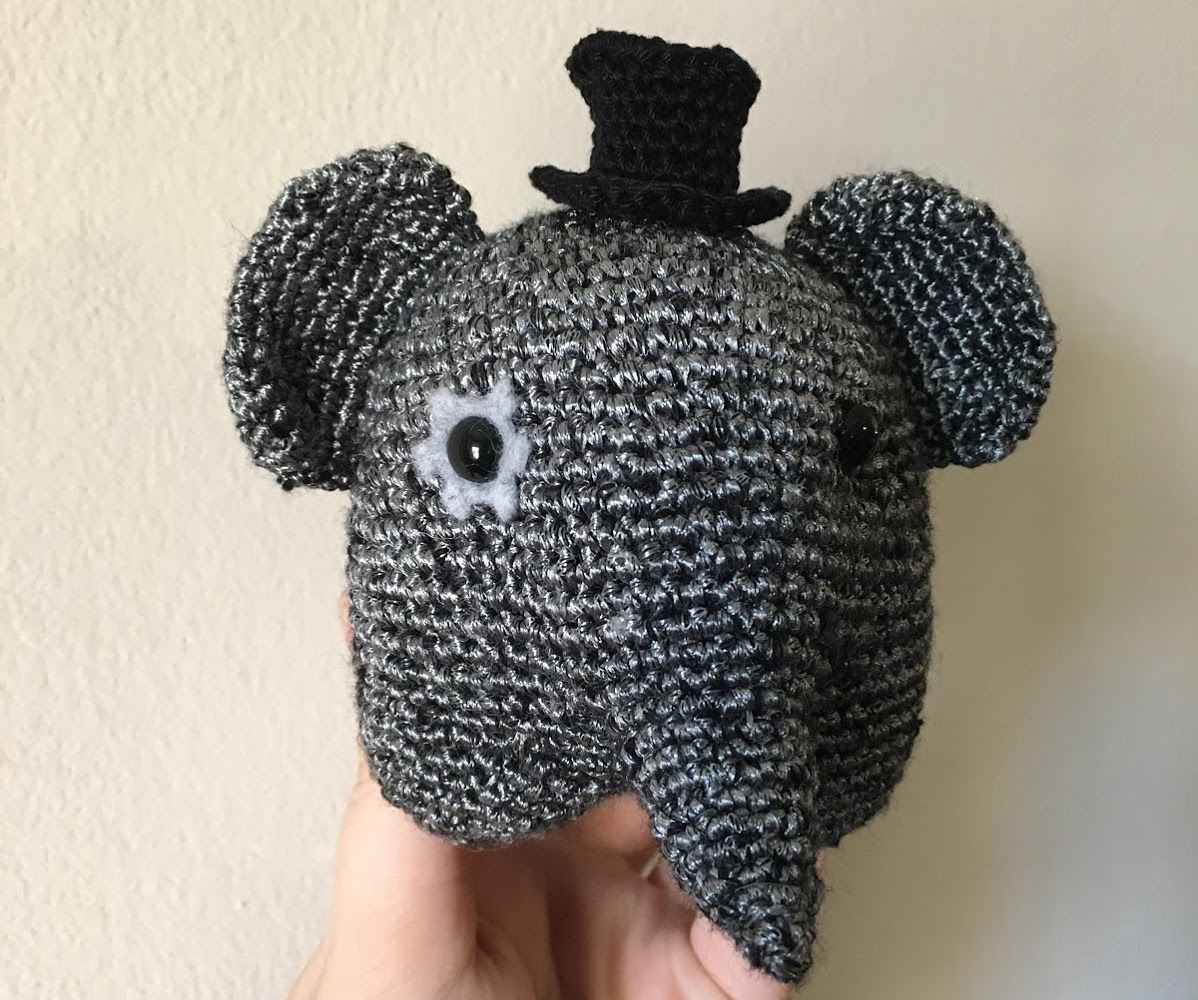 My latest FOs all have something in common – they're a little whimsical, fantastical, and funky. Check out this metallic amigurumi elephant and a couple other whimsical WIPs-turned-FOs.
Slowly but surely as I've been starting some new projects, I've also been finishing off some old ones that were hibernating in my closet for far too long. The star of today's post, Doc Tuff, is one such project. He's made with AllAboutAmi's English translation of Chisachi Kushima's elephant pattern. You can find the English pattern here.
I wanted to do something unique with this guy, so I used Patons Metallic yarn in "Pewter" and I love how it turned out! He's got a very subtle metallic sheen. As a result I immediately thought of robots and steampunk, so I added a felt gear-shaped monocle when I attached his eyes. He was clearly such a dapper fellow that he needed a top hat and a name as well. And thus, Doc Tuff was born! In addition to my pachyderm pal, I also finished off these two:
Unicorn
For this unicorn I used Ana Paula Rimoli's Shy Little Unicorn pattern from the book, "Amigurumi Toy Box." My shy little unicorn is currently hornless, since I have yet to find my gold Vanna's Glamour yarn. I think it will make the perfect sparkly unicorn horn! The body is an old ombre baby yarn in a rainbow colorway. Mane, hooves, and snout are made of random worsted weight solids from my stash.
Rainbow Planter
The succulents and cacti are both PlanetJune patterns, which you can find here. For the amazing rainbow pot, I used Bernat Mosaic yarn in "Psychedelic." I improvised a round pot shape in basic single crochet. For a little extra detail, I added shells at the top. Next, I pulled cactus and succulent options from each of PlanetJune's 4 cactus and succulent sets to get a wide variety of shapes and colors. You could also try this with crocheted flowers or bamboo!
I often have a hard time figuring out what to do with multi-colored yarn, so I'm glad this rainbow pot worked out. Another great thing to do with colorful yarn is try a new stitch pattern! For example, my technicolor jasmine stitch scarf from this post. If you have some ideas for what to do with wild-colored, sparkly, or metallic yarn, let me know in the comments!